Send us your comments (and a photo if you like) and we'll post it here. The reviews from VRBO and Houfy are at the top left. Simply scroll down and select the next pages to read all of them
Our state(sic) was awesome. We couldn't have asked for a better location. Everyone at the condos were very helpful with booking our tours and Robin is awesome. The condo was fully equipped with everything we needed. We have no complaints. We will definitely be booking again on our next trip. Thank you.
Donna - June 2023
Your home was beautiful and so well equipped that we need not want for anything.
The beach was amazing and the pool was perfect (some of our group did not love Robin the bartender). The pool was clean and lots of chairs to relax, drinks were so delicious (banana daiquiri was my favorite) It could not have been a better location for everything we needed.
Loved the wildlife on the property and found some interesting stories from the Xpats living in the complex.
Clean comfortable condo with plenty of room, lots of pillow and blankets and soft sheets.
It really was only a five minute walk to everything, amazing food and fun nightlife.
Thank you again for welcoming us in your home.
Complex: 4 1/2 stars (my friends took a 1/2 star off for Robin)
Condo: 5 stars
May 2023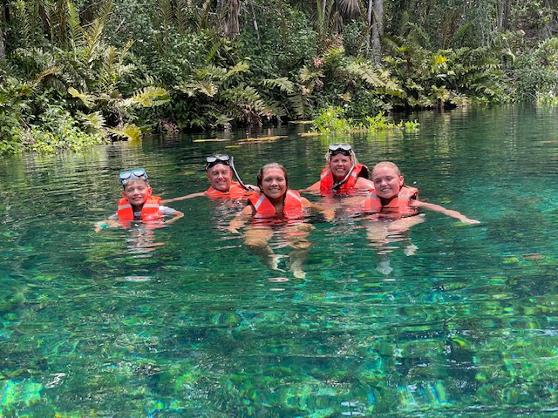 I think your condo has the best view of them all. It was much bigger than we are used to when we go places which was great for 3 kids. The pool was very nice, didn't get to use the pool bar as much as I hoped but was good when we did. We did take the ferry to Cozumel one day and had fun touring the island in a jeep and snorkeling. Found some great places to eat including El Fogon, Zenzi, and TX Gastropub. Spent one day touring Coba and some other activities which we loved. Overall, awesome trip and your condo was perfect, want to come back in the winter season sometime. Thanks again!
Derrick and Nicole, July 2022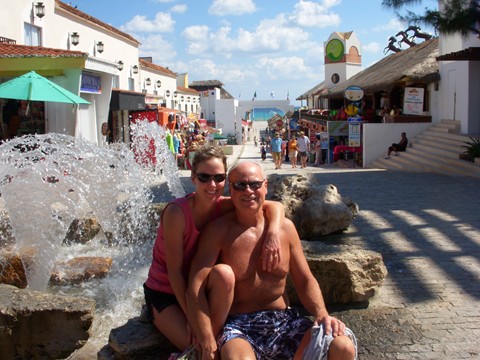 We had a wonderful month long vacation in your beautiful condo. We can't wait to come back.
Robin and Bob, Washington ______________________
Hi Terry,
Once again, we had a wonderful time in your condo! I honestly can't think of anything that needs improvement, you have everything so well thought out and supplied. We're already thinking ahead to next year.
Amy - January 2022
Terry,
Our stay at your condo was perfect. So nice to have the pool and beach at your footsteps. Thanks again for sharing your condo and everyone hade a great time.
Kevin, June 2022
We had a great time in Mexico! The condo really worked out well for us. We would definitely rent from you again in the future. We felt very safe there. We loved being so close to restaurants and shopping too. The pool area was great too.
Sharon August 2021
Hi Terry
We had a wonderful time. Your place is amazing. We met a lot of very nice people and supported Robin at the bar. Great location we logged a ton of miles. Thank you again.
Marnie May 2022
I just wanted to let you know that we all had a wonderful time!! We absolutely loved your unit and plan on going back late winter.
Katie - June 2021
We just wanted to thank you for the use of your Xaman Ha condo 7101 Nov. 21-28th. We loved the new furniture, paint and new shades in the master bedroom. As usual, we really had a great trip, and still believe that Xaman ha and your condo is the best place in Playa.
Bev and Jody
Beautiful spot, wonderfully equipped condo
Milwaukee, WI_______________________________________
Hello Tom,
I wanted to let you know what an absolutely wonderful time we had at your condo over Christmas break. The weather was great, the ocean just fantastic to swim in, and the accommodations perfect for our needs. Nothing disappointed--and everything either exceeded or met our expectations!
Also--the staff on the premises were helpful, and check-in was smooth--the entire area around the condo is so lovely as well.
I am seriously missing the sun and warm temps, and the lovely ambiance of Mexico--thank-you for allowing us to share in it all from the comfort of your condo--I hope you get a chance to escape Minnesota cold and relax in it soon!
Everything and everyone was amazing! Condo was super well appointed. Pool was awesome and Robin the bartender was nice. Loved the quietness of the complex ..and of course your view is the best in the whole complex! We will definitely come stay again.
Nikki July 2022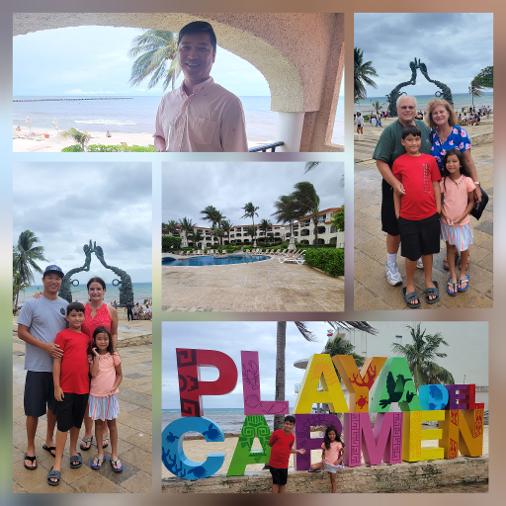 Hi Terry
Your apartment was beautiful, well equipped and clean. Beds were comfortable. Management staff and maids were also very kind. We enjoyed the closeness to the mall and 5th street which felt relatively safe. Also a bonus was seeing the ruins across the street.
Patricia, June 2022
Hi Tom and Terry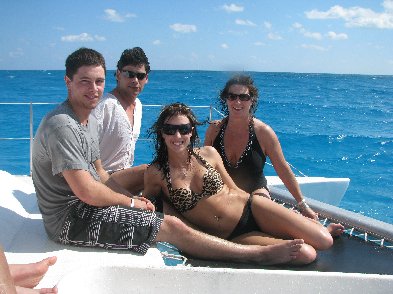 My Husband, daughter and boyfriend, and I found this condo perfect. The location is unbeatable we were able to walk to the night life within a few minutes and enjoy morning runs on the beach. The staff was wonderful and helpful with any questions we had. We will be booking our holidays here rather than an all-inclusive from now on. The unit had everything that we wanted. Morning coffee on the deck was wonderful. The sun rise was beautiful every morning. The patio area was enjoyed daily and the pool was also a nice change from swimming in the ocean. We would recommend this property to anyone looking for a great relaxing holiday.

Brenda, Dave Stephanie and Colton
We loved everything! It was perfect!
Shauna May 2022
We really enjoyed our stay in your condo. The condo was very spacious and had a beautiful view. We also liked the proximity to all the shops and restaurants. The grounds and pool are gorgeous and well maintained. Robin at the bar was wonderful and entertaining. Our vacation was great!
Danielle, June 2022
We had a great time and loved the condo, you really have a beautiful and special property. The location can't be beat, the views are amazing, the pool was great, the condo is very spacious and well maintained with a great layout.
Jaimi May 2022
Terry
I have been thinking all morning about expressing our gratitude for the use of your condo! Once again your condo was very comforting and peaceful. Looking forward to next year for five weeks if possible?
Thank you again for such a great place to vacation!
Dave and Becky - March 2022
We really enjoyed our stay. We had our two year old with us and the condo had everything we needed. The pool was great!
Nelly
Tom, We are completely enjoying your condo in Playa! The kitchen is better equipped than any other place we have stayed in this area. This is at least our third time at Xaman Ha, sixth or seventh time in Playa, and we like your condo the best. The weather is perfect, of course! Jael(sic) with the property management company is great.
Nancy, Fergus Falls, MN
Just got back from a week at this amazing condo. Highly recommend to anyone considering. Great location, amenities and the beach cannot be beat. Wish I would have booked two weeks instead of one. :)

Tresenia, San Francisco, CA ____________________________________________
We loved it! Second time we've used your home. Thanks so much. We will be back next year.
Rich and Vicky, Colorado
Absolutely beautiful! We couldn't be kept away from the beach and the Mayan ruins.
John, Diana, and family, Forestville, Ca ________________________
Beautiful Place; a perfect condo. Great food, water and weather. Thanks we will return.
Michelle & Tom, Oklahoma City _________________________
Hi Tom,
Just want to let you know what a wonderful job you guys did on the upgrade of your condo. We have been coming here for 17 years and have always enjoyed this place.
Thanks for sharing you beautiful CONDO!! :) WE LOVE BEING ON THE END
Jack and Jill
_________________________________________________